March 2022
I've opened a NFT port on Open Sea
KIT CHAOS NFT GALLERY ON OPEN SEA
Currently, I'm selling editions (10 copies) of my most recent fractal discoveries that are the most complex compositions I've ever created. The series is called Spiral Gardens.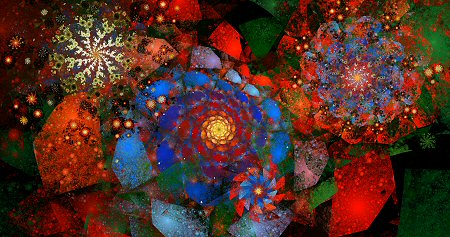 I'll see how the NFT sales model works and if I like it I'll be offering other digital works.
It's been a long time since I've updated this site but I have been working on 2 larger projects:
The first is a 4K new fractal video that is complete with a 1.5 hour running time. It next needs to be fine tuned here and there and then mastered for universal playback. I will continue working with Scenic Labs for release. I've been rendering the 4K frames since 2016 on 4 computers! It's been a slow process but they are big and beautiful frame renderings.
The second project is much different...it's a new series of early photography montages that I have been working on since 2018. The series is called a A Book of Old Souls and I'm almost finished the new website. I'll be using a WIX site as it's very nice to work with and update. I'll post the new site link here as soon as it's launched.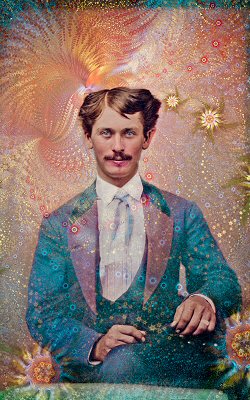 Thanks for visiting!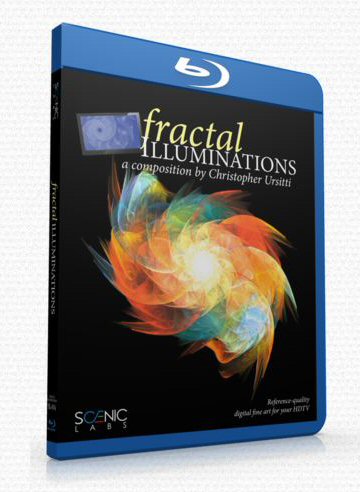 Fractal Illuminations includes two Ursitti compositions, Fractal Illuminations and The Magic Lantern, both with original 7.1 scores composed and performed by Chris Martyn and Geoff Harvey. Explore the meditative and illuminating side of evolving fractal art. This project is his third Scenic Labs collaboration, and it features some of the most complex textures and transitions ever presented.
Fractal Illuminations was published in 2014 and all blu rays have sold out.
Fractal Illuminations purchase link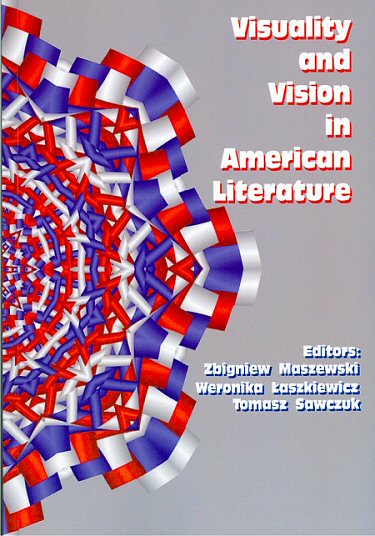 Thanks to Weronika Łaszkiewicz for choosing my design
for the cover of the text book Visuality and Vision in American Literature.
New Blu Scenes release coming soon, Fall 2014:
Fractal Illuminations
Here is a short preview of Chapter 1. Fractal Illuminations will have 2 chapters with a running time of about 72 minutes. Both chapters are a departure from The Fractal Plane, rendered with slower motion creating a more dreamy visual packed with fine details of the designs.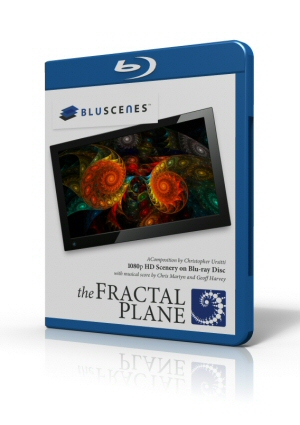 RELEASED NOVEMBER 25, 2011
BluScenes: The Fractal Plane by Christopher Ursitti
BluScenes: The Fractal Plane includes two Ursitti compositions, "The Fractal Plane" and the "Mathematical Daydreams," both with original 7.1 scores composed and performed by Chris Martyn and Geoff Harvey. Even in our digital age, our computers are incapable of rendering these complex animations in real-time. This program was almost a year in the making, resulting in an experience that is simultaneously technological, nostalgic, beautiful and sublime. It's colorful and evolving art with the power to transform a room completely.
Produced entirely in 1080p, with 5.1 Dolby Digital and 7.1 DTS-HD MA audio, enjoy The Fractal Plane by playing one scene, playing both or looping them infinitely.
Resolution: 1920x1080 / 1080p24
Codec: AVC
Source Material: Iterated Function System (Fractal) Flames
Sound Options: 7.1 DTS-HD MA, 5.1 Dolby Digital
Managed Copy: Supported
Menus: Full-motion root & in-movie pop-up
Runtime: 74 Minutes
Region: All Blu-ray players & PS3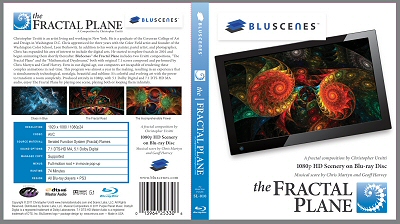 Click on images above to visit BluScenes website to purchase The Fractal Plane.

KIT CHAOS SPACEWALKER DVD PROJECT!
I'm pleased to announce the completion of my new animation DVD, "KIT CHAOS SPACEWALKER"! It was conceived in December, 2005 in Las Vegas, while meeting for the first time, in real time, my friend, and inventor of the "flame fractal", Scott Draves. I started working with IFS animation in 2002 and, soon after, began working with Scott and the Electric Sheep Project, (a global art and animation project that I will write more about later), working first as a designer, and currently as a project administrator. My dream was to eventually present a solo visual album of my most intriguing designs. Around the same time, I became friends with Erik Reckase who also designs and writes the code for Flam3, the powerful command-line rendering engine used for the animations. Erik was responsible for patiently teaching me so much over the years through our IMs, from the learning of command-line rendering to Linux. With these new tools and much encouragement, my project evolved into "KIT CHAOS: SPACEWALKER" .
I'm sending out a big thanks to both of them!
I created Kit Chaos as my web handle in 2004, posting my Electric Sheep designs and my digital compositions at several digital artist sites under that name. Creating a pen name was very liberating for me as an artist and opened me up to a new world of creative possibilites. So, I'm happy to present Kit Chaos' latest adventure, "SPACEWALKER".
(Click on image to go to Spacewalker blog)